Floating Contact Form Portlet
Back Symbiotic partners and flourishing businesses
The value of a flower is determined by its state when it arrives in the shop at the end of the supply chain. Broken stems, spotted leaves and 'overbloom' are defects that impact their value. Careful logistics plays a big role in preventing those.
"That is why our partnerships matter to our customers in the flower business", says Christian – a Colombian based expert at Kuehne+Nagel. Christian and his colleague Monica present logistics solutions to flower farmers for a living, and they know Daniel from Suasuque well. They echo his conclusion, namely, that in the flower business 3 factors lead to success: Ideal climate, ideal sales and ideal logistics.
The add-ons that turn customers into partners
The basic service of perishables logistics is the temperature and time-controlled transportation handled with care and diligence by our experts. What we truly offer, however, far exceeds these foundations. After all, partnerships are forged when mutual interests and shared incentives synergize the strengths of both parties. "When the business of Suasuque grows, we grow along because there will be more flowers to transport as long as they keep choosing us. That's why we support Daniel however we can to support the success of his business", Monica and Christian chime in.
One such important service add-on is nowadays more essential than ever. The Covid-19 virus keeps many planes on the ground and the drop in freight capacity has challenged the perishables industry greatly in the past year. "When dealing with perishables you don't want to wait for the next plane out as the lifespan of your product diminishes. Thanks to Kuehne+Nagel's sizeable customer base and long history we can negotiate capacity agreements with airlines", Christian clarifies. This means that even when capacity is tight, we are likely to secure a spot for priority shipments. Discussing beneficial airfreight rates is another advantage stemming from Kuehne+Nagel's negotiation leverage - made possible through customer's volumes. Again a great example of a symbiotic partnership.
Another much appreciated add-on for customers is the automatic plug-in into Kuehne+Nagel's extensive global network of expertise, giving access to business intelligence and networking opportunities. Christian: "We have good relationships with carriers, importers, exporters and essentially all parties involved in the supply chain of perishables. On top, we have both a helicopter view of market situations as well as in-depth knowledge of our customers, which puts us in a position to help them out with advice in turbulent times or with tips to venture into new markets and introduce new potential customers."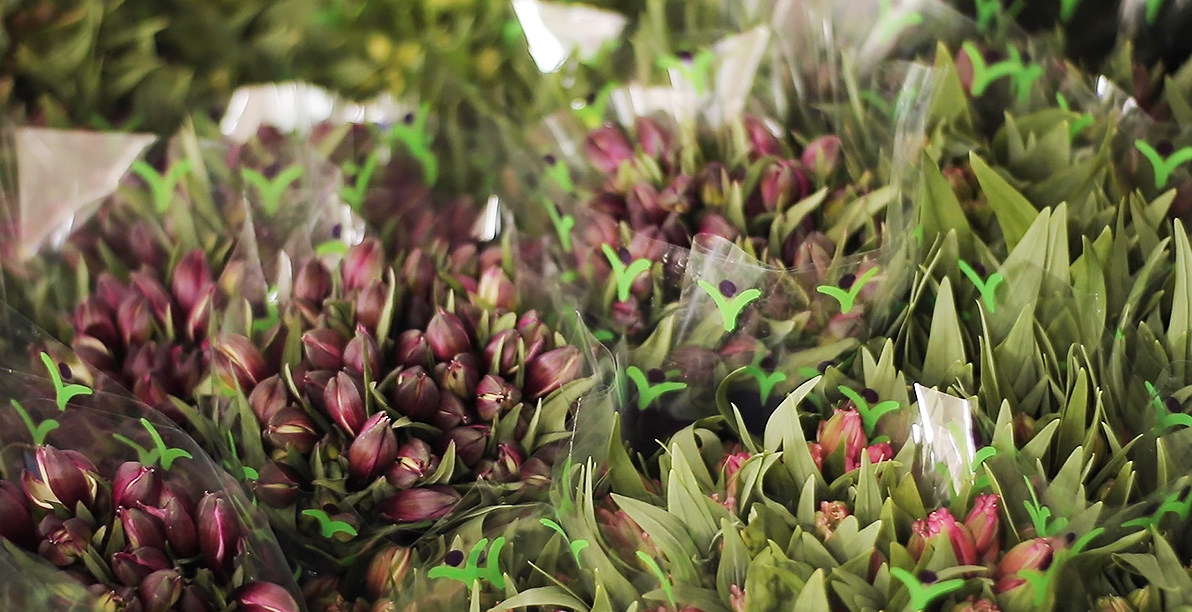 Green leaves
The valley which surrounds Daniel's flower farm is green year-round. "Just like the leaves of healthy alstroemeria", Monica points out – adding that spotted leaves in flowers are telltale signs of bad quality, even when the flowers look bright and vibrant. A common cause for uneven leaves is botrytis cinerea, a type of fungus. "The fungus thrives when humidity levels are too high", explains Monica – a fact that every perishables expert in Kuehne+Nagel is aware of. While alstroemeria need a lot of humidity to thrive, as Daniel mentioned, too much is detrimental too. In the farm and during transportation it is therefore essential to control this. Christian: "To address this concern we have vacuum coolers in place to evaporate moisture from the product to control the humidity so that the flowers arrive optimally. We always think with the customer about improvements, also for example by consulting them on packaging to optimize the chargeable weight."
According to the two logistics experts, that niche knowledge – available across the entire experienced specialist team – is the most important asset. "You know, this morning I was in a conference call with a colleague who celebrated 36 years in Kuehne+Nagel. When Daniel from Suasuque points out that 3 generations have been working in his company; we can say that this focus on people, retention and the passing on of expertise also is true for Kuehne+Nagel." Another valuable touchpoint, however, is the shared culture of our Colombian Kuehne+Nagel colleagues who act as ambassadors for the local customer's ambitions. Ambitions that also consider sustainability in terms of production, business conduct and partnership. Perhaps it is this common ground between Suasuque and Kuehne+Nagel which grew the fertile partnership, bringing together an ideal climate, ideal sales and ideal logistics.
---
"Growing with our customers" is a series of stories told by our customers - flower growers, fruit and vegetable importers, fish farmers, and food producers who introduce you to their world of ingenuity, determination and passion. From a blooming farm in Colombia to the cold waters of the Norwegian sea and back to sunny banana plantations – get ready to travel around the world to discover the secrets behind the highest quality, freshness and joy of our favourite products.