Floating Contact Form Portlet
Back Air Logistics - Sustainable aviation fuel (SAF) solutions
Does your company have ambitious carbon reduction goals? Do you want to lead the way when it comes to climate protection while boosting innovation and strengthening your brand? With our solutions, you can quickly shift from intent to action by creating the low-carbon economy of the future, today.
Whether your goal is to reduce your carbon footprint or even achieve carbon neutrality, our teams at Kuehne+Nagel stand ready to provide you with sustainable air freight solutions globally. To reduce your footprint to net zero, we offer the use of sustainable aviation fuel (SAF) and offsetting projects certified by the highest standards on the market. Regardless of the origin, destination, airline or the service you choose, these solutions in combination or in singularity can be integrated to fit your business goals.
What is sustainable aviation fuel?
SAF is a cleaner substitute for conventional jet fuel having similar characteristics to traditional jet fuel kerosene. SAF is a so-called drop-in fuel as it can be implemented in current engines and does not need modifications on aircraft.
Depending on the production method, there are two types of SAF: Bio SAF and synthetic SAF. Bio SAF is made from biomass —waste products and feedstocks with low carbon content — while the primary energy source and feedstocks for the production of synthetic SAF are renewable electricity, water and carbon dioxide (CO2).
At the moment, the only commercially available technology of bio SAF production is hydro-processed esters and fatty acids (HEFA), which refines used cooking oils, waste oils and fats into SAF). Synthetic SAF is considered the long‐term solution for the industry as it can be produced without availability limits, avoiding biomass supply limitations, and can reduce emissions up to 100%.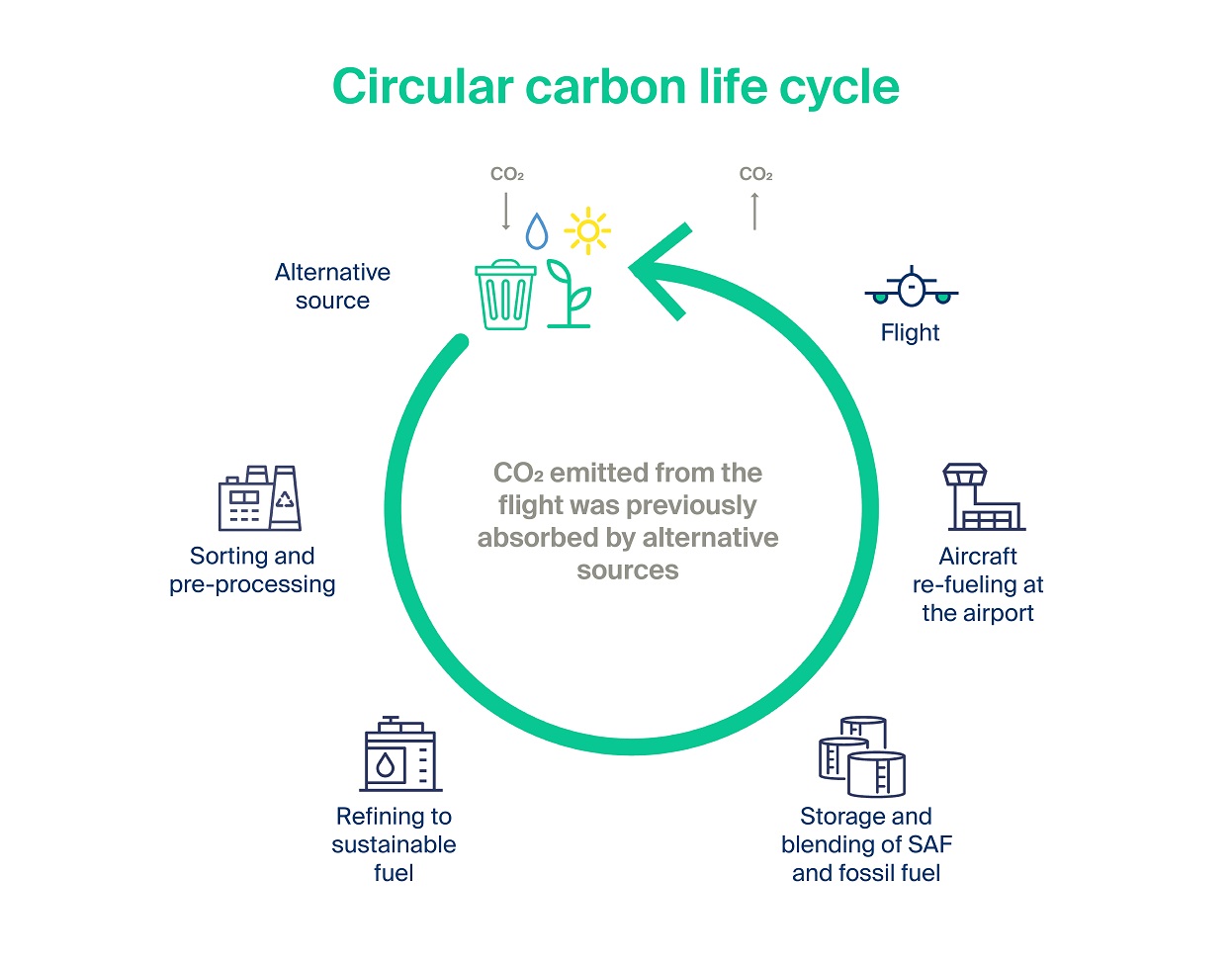 At Kuehne+Nagel, we have teamed up with leading carriers and SAF producers to jointly foster the deployment and use of bio and synthetic sustainable fuels so our like-minded customers can ship their products CO2 neutral.
Is SAF enough for carbon neutrality?
Synthetic SAF is the winner here and can reduce emissions up to almost 100%. Bio SAF, in turn, is not entirely carbon neutral. It still generates CO2 emissions during production, processing and transport. However, it can reduce emissions by 75% – 90% depending on the base components of the bio SAF.
There are two ways to ensure full carbon neutrality when using bio SAF. First, the remaining CO2 emissions can be neutralised by overcompensating the amount of jet fuel kerosene replaced by SAF up to a ratio of 1:1.33. Second, we can offset via certified carbon reduction projects that currently hold the highest quality certifications: Verified Carbon Standard (VCS) and/or Gold Standard (GS).
Are you ready to act?
Here is how it works:
We start by retrospectively calculating the amount of jet fuel kerosene that your shipments are consuming and then use SAF to substitute that amount.
If you want to achieve carbon neutrality, we offer offsetting via our certified carbon reduction projects or using additional SAF.
Lastly, you receive a certificate stating the amount of SAF used and CO2 emissions that you successfully reduced.
Easy as that!
Your tangible benefits in addition to taking care of our environment:
Lead the way to a zero-carbon economy, boost innovation and fulfill your ambitious emissions reduction targets.
Instantly drop up to 90% of your shipments' carbon footprint thanks to 12.7M litres of immediately available Kuehne+Nagel SAF.
Go global: Our SAF solutions are available on all routes for all services and all customers worldwide — regardless of airlines used, origin or destination.
Enjoy peace of mind and certainty knowing our SAF solutions and offsetting projects are implemented with strict compliance and transparency.
Power your products with alternative fuel with one point of contact, directly via the logistics provider.
Strengthen your brand and market your products as more sustainable.
Meet regulatory restrictions: Show the impact and share your story with the SAF certificate, proving that your supply chain is CO2 neutral.
---
Latest news:
Kuehne+Nagel and Lufthansa Cargo agree on exclusive partnership to promote CO2-neutral synthetic fuel… Read more
Kuehne+Nagel and IAG Cargo complete the first net zero carbon charter chain... Read more
Kuehne+Nagel enters into agreement with American Airlines to deploy 11 million litres of sustainable fuel... Read more
Kuehne+Nagel and Air France KLM Martinair Cargo launch first zero emission air freight route... Read more
---