Floating Contact Form Portlet
Back Aerospace - Reliable engine supply chains
Engines are essential to keeping planes in the air and bringing success for your business. Kuehne+Nagel provides secure handling and transport of these valuable items with precision and care.
Engines are high value assets, whose development takes several years and requires high-end technology and advanced composite materials. These expensive power plants generate revenue only when they're "on wing" - powering planes to fly and transporting millions of passengers or goods around the world for airlines. From small piston engines to large Turbofan, they are the heart of the planes and without them, planes can't fly – a scenario that the aerospace industry will always wish to avoid.
In the aerospace industry, the safety of the aircraft always comes first. Engines are regularly inspected, with each of them eventually undergoing an "off wing" time for a strict maintenance check. As shown in the diagram below, engines have different maintenance intervals from the airframe itself. To continue uninterrupted revenue streams, the airlines have a rotation of spare engines. Therefore, once an engine is sent to a workshop, another one is attached to the aircraft in its place.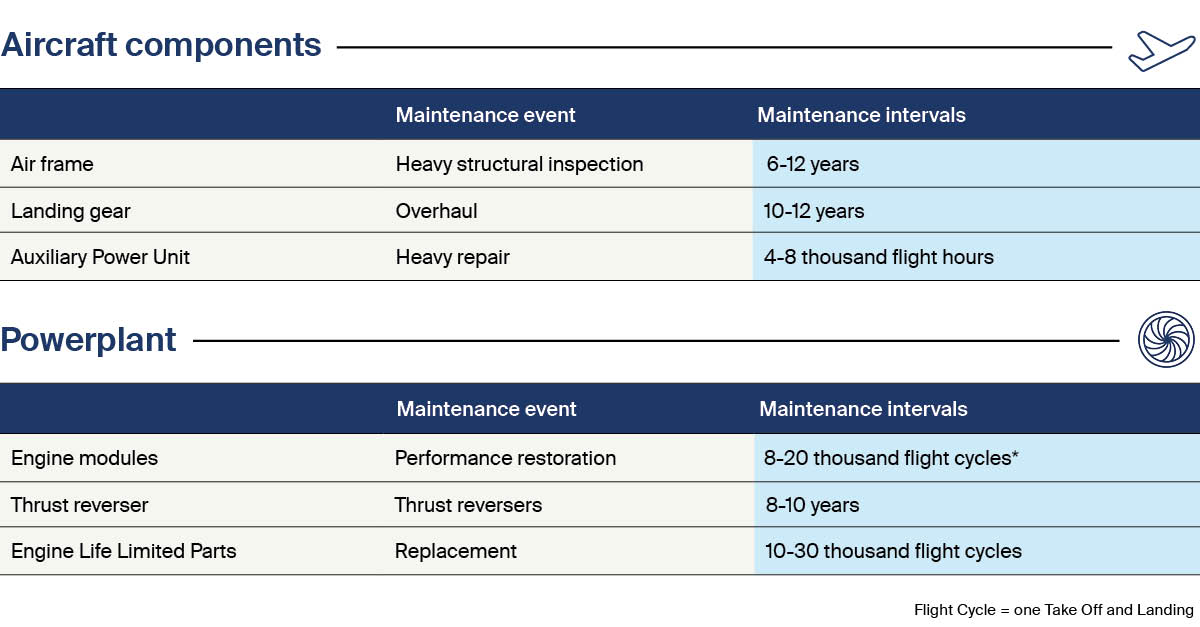 Since engines are in this continuous rotational cycle, coordinating a moving inventory on a global scale involves advanced planning and dealing with multiple, (and in most cases) uncontrolled variables. Ultimately, the goal is to minimise any fleet disruption; or what the industry likes to call it: Aircraft on Ground (AOG). Robust supply chain planning substantially contributes in reducing downtimes. At Kuehne+Nagel, our engine experts ensure that this chain of movement doesn't break. Our global network of aerospace offices with 24/7 AOG desk provide alternate, emergency solutions to transport engines safely and on time.
These days, a new era of engines is being introduced to the market. Not only are these engines more powerful, cost effective, and efficient in terms of fuel burn, they also have environment friendly qualities – like lower CO2 emissions and sound pollution. This is especially beneficial for the communities living in areas closer to the airports. Today airlines also prefer planes with such engines, especially for large intercontinental flights. Thus, while aircraft models were previously equipped with four engines (also called quads), they are now being replaced by equally huge twin-jets. With the advancement in technology, engines are becoming significantly larger in size. This contributes to a mounting pressure in the transportation segment, with larger engines requiring more attention and planning.
Ensuring engine security through continued education
Careful handling of engines is crucial to the security of the aircraft. Currently, aerospace authorities don't have official certification requirements for engine logistics. While everything else in aviation – from a small screw to a large compressor – is usually certified before use, there's a gap when it comes to certified transport. To bridge this gap, we internally certify our network, staff and subcontractors according to our QSHE (Quality, Safety, Health, and Environment) guidelines. Our specialists go through numerous trainings and continuous internal audits so that your engine is in safe and expert hands throughout the journey.
We also know how important it is to follow the engines during the transportation. To reduce any potential deviation or damage to them, our real-time, online shipment tracking capability lends transparency to the status of the shipment. At every critical junction during the transit, you can receive photographic assessments and digital checklists detailing our inspection processes to know that the engine is damage-free. Along with 24/7 visibility, we provide intervention and additional support if any issues arise during transport.
A shift post Covid-19
2020 served as a challenging year for the aviation industry, with unprecedentedly low travel demands. Predictions also indicate that it will take years for travel to reach pre-coronavirus levels again. Many airlines have been forced to ground aircrafts in order to survive. To prepare for the industry's comeback, a lot of measures need to be considered - like anticipating the retirement of older aircraft types, converting passenger aircrafts to freight, using twin-powered and more efficient aircrafts, as well as pushing forward the idea of single-aisle aircrafts on transatlantic routes.
At this time, our focus has been providing solutions that will help the industry deal with the rapid changes. Due to numerous travel restrictions and lockdowns, a lot if flights aren't operational today. The use of engines has come to a staggering halt – which means that customers need safe storage spaces for many bulky engines. To address the needs of the industry and our customers, we have increased the storage capacity in our warehouses across the globe. These dedicated engine storage warehouses have high-level security with sprinklers, access control, and large doors with lots of floor space, so a number of engines can fit inside with ease. Currently, we have over 600 engines stored in multiple warehouse locations.
Whether the need of the hour is transporting engines, storing them or monitoring them – our aim is to help customers recover from the unexpected complexities that arose last year. After all, as they rightly say – alone we can do so little; together we can do so much.