Floating Contact Form Portlet
Back Digital solutions: Manage your shipments with myKN
Manage your logistics quickly and reliably with myKN. Find competitive freight quotes, make instant bookings and track your shipments from any device.
To stay competitive, you need to act quickly and seize opportunities. However, complex processes, lost information and lack of visibility can make this difficult to achieve.
At Kuehne+Nagel, we've designed a tool that gives you complete control of your shipments. No more chasing quotes, hunting for lost paperwork and not knowing the status of your shipments. myKN empowers you to manage logistics your way, freeing up your time so you can focus on the bigger picture. No matter the size of your business, myKN will give you an advantage.
Accomplish tasks quickly with myKN
Explore lane options to choose the optimal route for your shipment. Find competitive quotes, turn them into bookings or save them for later use. You can also track the status of your shipments using your own reference numbers, enabling you to provide your customers with accurate information and expected arrival times.
With myKN, you also have strategic advantages that support your growth. A customisable dashboard offers you up-to-date insights that let you assess your costs, identify bottlenecks and optimise your overall logistics plan. These features support better decision-making that will bring you closer to your customers. Sustainability is a key differentiator for customers. myKN measures the environmental impact of your shipments and provides options for you to offset.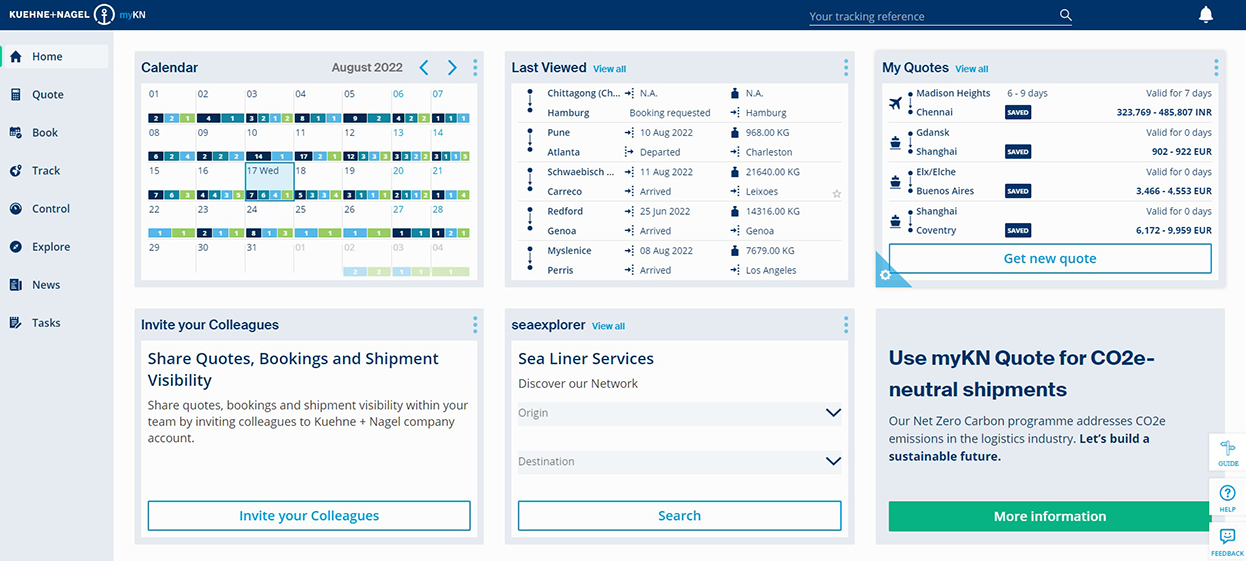 Complete control, wherever you are. myKN is the intuitive and immediate way to accomplish your logistics tasks.
Quote - Simply enter your route and shipment details and receive competitive quotes instantly.
Book – Make reliable and certain bookings using one convenient system with minimal data entry.
Track – Check the status of your shipments and enjoy quick access to your own transport and commercial documents.
Explore – Full integration with seaexplorer's ocean shipping options including outgoing and incoming vessels, departures, capacities, frequencies and durations.
News – You can get all the essential news for managing your supply chain directly in myKN. The News editorial team condenses and verifies what is happening around the world in logistics.
Fast-paced innovation and access to instant information has created growing expectations in the marketplace. myKN provides the tools for you to exceed those expectations.
Sign up now and get your first quote
---
Want to learn more?
Explore our related offerings:
---
---
Want to learn more about myKN? Watch our short videos:
How to register for myKN
In this video, we show you how quick it is to register with myKN and gain full control of your shipments.
How to add a personal view in myKN
In this video, we show you how to customise your myKN page so the most relevant information is at your fingertips.
How to monitor your shipments with myKN
This video demonstrates how to use myKN's monitoring feature to check the status of your shipments.