Floating Contact Form Portlet
Back How to cope with the increasing ocean unreliability
Coping with unreliability in ocean shipping is challenging: Your shipments cannot be loaded or do not arrive on time? Higher costs and increased freight rates affect your bottom line? You experience stock outs caused by low inventory levels? What is the cause of it and what can you do to manage this situation?
The disruption in global trade impacts businesses. Severe operational issues create challenges for ocean carriers and shippers.
What are the reasons for the unreliability in ocean shipping?
At the beginning of 2020, global freight volumes declined before increasing significantly in the second half of the year.
Equipment challenges: This sudden increase in volume resulted in serious problems with the repositioning of empty containers, causing a sharp decrease in the global availability of equipment.
Port congestion: Ports worldwide are experiencing more congestion than ever. There are not enough resources to enable the smooth movement of cargo.
Learn more about it in the video.
Your solution to the disruptions
You can compensate for this unreliability through access to our global service liner network, coupled with our local expertise and fully integrated technology.
Planning reliability and flexibility: Kuehne+Nagel's status as the largest partner of all 3 alliances – 2M, Ocean Alliance and THE Alliance – and other independent carriers in the market gives you the security of a large global network, helping to reduce risks in your supply chain.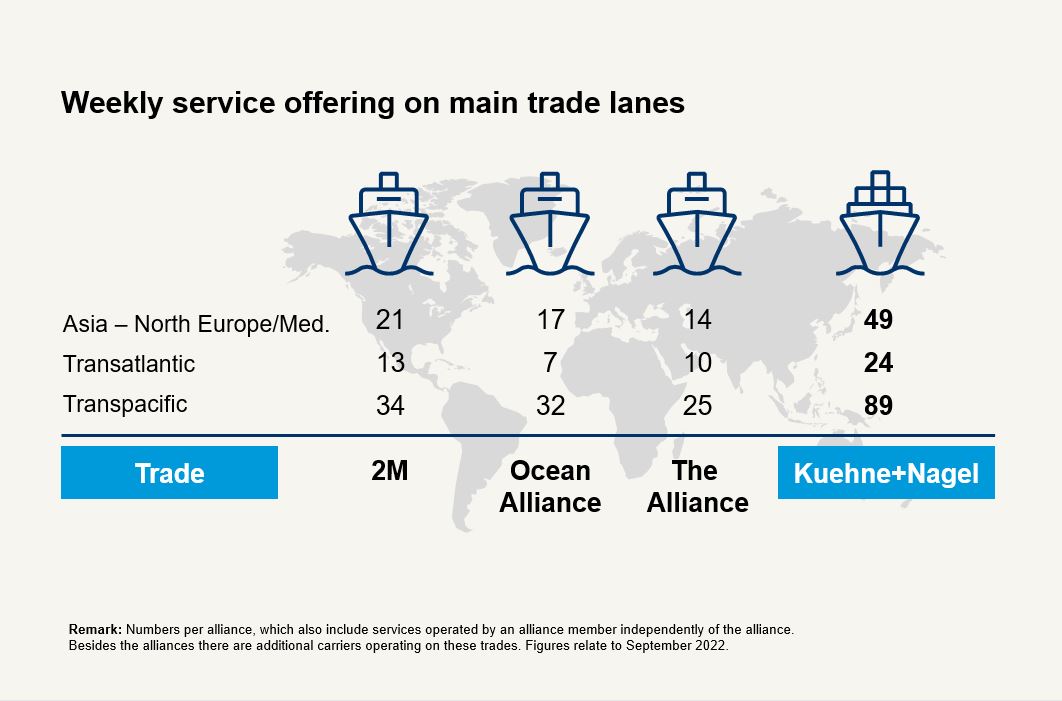 Multiple sailings: By offering multiple departures from one port, we overcome and help offset challenges in export processes, such as delays in manufacturing, lack of equipment, or vessel schedule changes.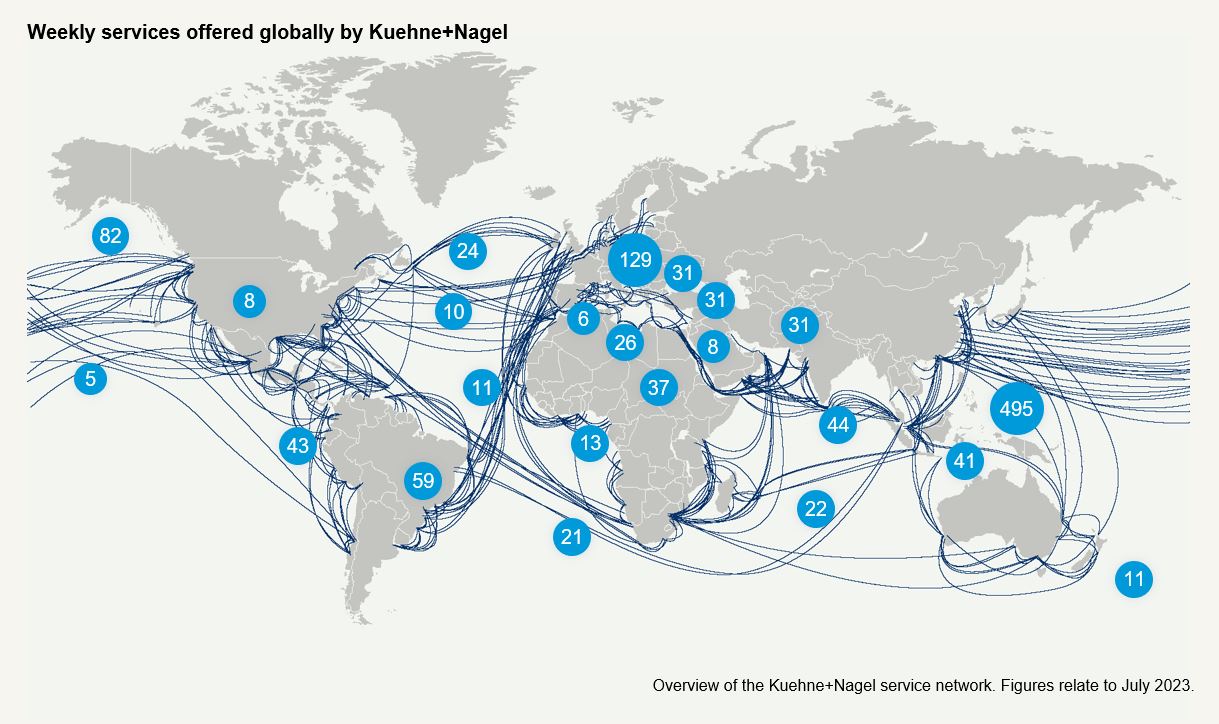 Alternative routings: We offer alternative routings to speed up your supply chain and ensure that goods reach your customers on time, even with extended layovers due to port congestion.
Space, equipment and lead times: We are close to you. Our local specialists can assist you in securing vessel space and equipment to provide you real-time space and allocation management.
Improved performance: With our fully integrated systems and processes, data-driven insights, and innovative technology solutions, we ensure that your inventory arrives on time and with minimal unplanned expenses. You benefit from complete visibility of your entire supply chain, whether milestone tracking, your suppliers or your orders.
seaexplorer: Kuehne+Nagel's seaexplorer platform helps you to eliminate potential risks through

Alerts about changes in service rotations
Avoiding services with low reliability ratings
Avoiding services calling at congested ports
And examining alternative routing options
Our experts are ready to consult with you on tailored solutions to keep your freight moving. Leave us a message and our experts will be in touch with you shortly.