Floating Contact Form Portlet
Do you want to import your goods by truck from China to Germany? With our professional road network you will benefit from customized solutions for your requirements.
For road transports from China to Europe, we enable short lead times. The transit from China to Germany is via Kazakhstan-Caspian Sea-Azerbaijan-Georgia-Turkey.
Our modern fleet has standard and mega trailers with special equipment if required to provide you with a high quality of service for your individual needs. Secured, video-monitored parking and live GPS tracking with daily status updates ensure safe transportation.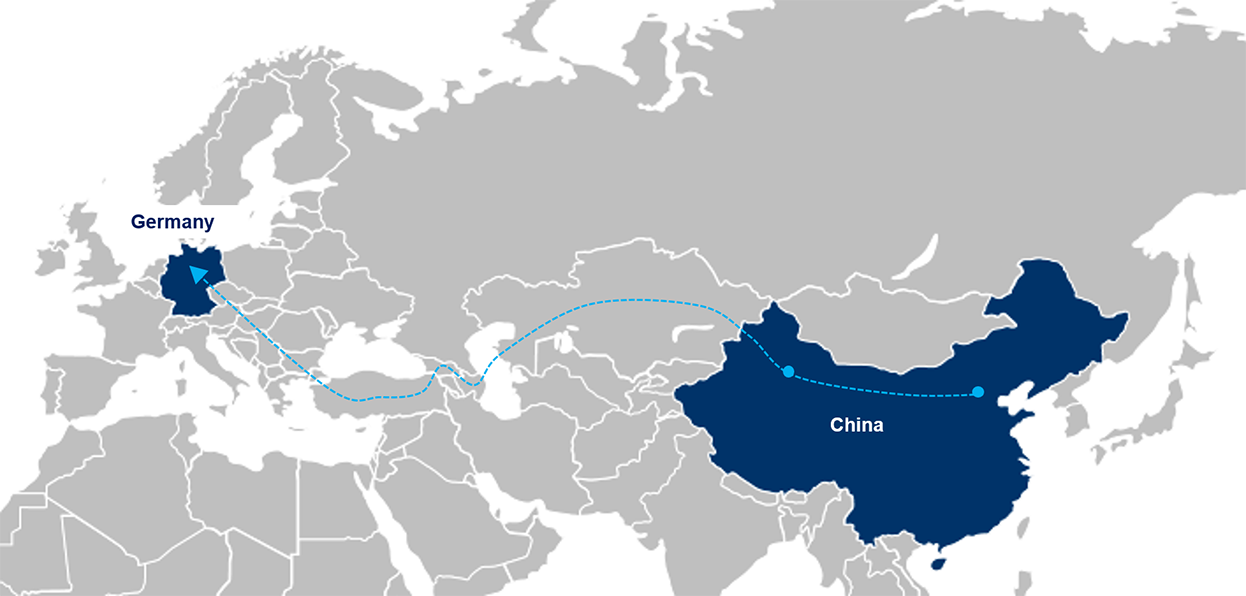 Transit Times
| From | To | 1 Driver | Distance |
| --- | --- | --- | --- |
| Beijing (CN) | Hanover (DE) | 38 days | 12,200 km |
| Shanghai (CN) | Hanover (DE) | 40 days | 13,400 km |
Our Services
Bespoke solution for your transport needs*
Door-to-door service from one supplier
Customs services and document creation
*Due to legal regulations, overland transports are currently only possible from China to the EU.
Your benefits
Short notice and fast transport
High flexibility choosing route and means of transport
High level of security and transparency
An experienced partner at your side
We are happy to answer your questions and provide you with a tailor made offer for your transports between China and Europe. For requests, please send us your message:
---
Frequently asked questions

Which Incoterms should be chosen?
Kuehne+Nagel can transport shipments with any Incoterms.

Where is the place of customs clearance in China?
Kuehne+Nagel will do the export customs clearance at the Chinese border. Export customs clearance is included in the freight rate. Communication with the Chinese shipper is handled by Kuehne+Nagel.

Can Kuehne+Nagel offer trucks from China to the EU during winter time?
Yes, the trucks are offered all year round and also drive during the winter period. Kuehne+Nagel has extensive experience in China transports during winter time.

Are all shipments transloaded?
No, since spring 2023 direct transports are available as well. Please consult your Kuehne+Nagel contact.

Are there transloading time slots at the Chinese border?
Yes, Kuehne+Nagel reserves the transloading time slots at the Chinese border in advance. Timely transportation booking is recommended f or planning and applying for transloading time slots.

What pre-advice time does Kuehne+Nagel need?
Kuehne+Nagel can pick up in China on a daily basis. At pickup, we are guided by the available or already booked transloading time slots, if transloading is requested. A preliminary transportation schedule with the estimated arrival date in the EU will be provided upon order confirmation.

What is the size of the lorry bed and the loading height? What is the maximum payload?
The standard trailers have the following dimensions (in meters): 13.6*2.48*2.65. The maximum payload is 22,000 kg.

What is the emission class of the trucks?

Does Kuehne+Nagel offer insurance on this route?
All shipments are insured automatically for the intra Chinese transport up to the Kazakh border, as China is not a member of the CMR Convention. From the Chinese border Kuehne+Nagel offers insurance according to the CMR convention with 8,33 special drawing rights/kg. Additional cargo insurance is av ailable upon request.

Where is the place of customs clearance in the EU?
The customs terminal is defined by the final consignee. Kuehne+Nagel can execute the customs clearance in the EU as well. We are happy to advise you on this in a personal meeting.

Can Kuehne+Nagel deliver throughout Europe?
Yes, Kuehne+Nagel can deliver directly in all countries of the EU.

Are there any limits of commercial value of cargo on this route?
No, Kuehne+Nagel offers transportation of high value goods.

Does Kuehne+Nagel have box trailers in operation?
Yes, we can load with box trailers in China and from the Chinese border.

Is transportation with more than one truck possible?
Yes, Kuehne+Nagel provides transportation for project delivery with standard dimensions.

Does Kuehne+Nagel offer transportation of dangerous goods?
Yes, we provide transportation of dangerous goods via Kazakhstan.

Who is in charge of China shipments at Kuehne+Nagel?
Our customers have an operative contact person in Germany, who supports them in all requests concerning China transports.

Which accompanying documents are required at the loading point in China?
As a standard set: invoices and packing lists. We are happy to advise you on this in a personal meeting.

Where at the Chinese border does transloading take place?
Transloading takes place at a warehouse defined by the Chinese authorities.

Do I have to pay extra for the reloading of loose boxes?
No, manual handling does not need to be paid extra and is possible at any time.

Are there any extra convoys or customs escorts on this route?
No, Kuehne+Nagel works with licensed customs carriers. There are no convoy or other fees.

Does Kuehne+Nagel use secured parking on this trade lane?
Yes, all trucks only use secured parking with video surveillance.

Who will provide the import customs clearance and with which customs document is cargo delivered to the EU?
Kuehne+Nagel provides import customs clearance at all border crossings. Cargo is delivered by T1 to the destination customs office in t he EU.

Will the cargo be unloaded in the EU to perform import customs clearance?
No, customs clearance is done "on wheels".

Can tracking be provided via KN Login or email?
Yes, status update is provided daily in Kuehne+Nagel Login or by email.

Is there a way to identify the truck location?
Yes, all trucks are equipped with GPS vehicle tracking. Kuehne+Nagel has access to the GPS position.

Which carriers does Kuehne+Nagel use?
Kuehne+Nagel organizes transportation from the sender in China to the Chinese border in cooperation with our Chinese branch or with the approved Chinese contractors. All transports from the Chinese border to Europe are carried out with the Kazakh or Turkish contractors who have been used by Kuehne+Nagel on this route for several years. All contractors are regularly checked and controlled by Kuehne+Nagel quality management.