Floating Contact Form Portlet
Back Air shipping for semicon goods: highest quality standard
When your production schedules are tight and semiconductor supply chain products need to move with speed, predictability and security: the primary mode of transport is air.
​​​​​​The demand by consumers, enterprises and governments for semiconductor-powered devices and systems continues to boom. To make sure your supply chain can keep pace with the industry demand, we launched a quality-first offering for air freight shipments.
Air freight specialised solutions: next level of trust
With this specialised air freight offering, your semiconductor goods are handled within our globally certified SemiconChain network by experts trained specifically in semiconductor logistics.
What is SemiconChain?
In short, SemiconChain is a quality standard. It means we manage every shipment under a globally standardised proccess across the network. It also ensures that your semiconductor goods are handled by trained industry experts who take part in a comprehensive and continuous training programme designed to give a deep understanding of the semiconductor supply chain and all its complexities.
The SemiconChain network is global and built around 25 key industry locations. Each location operates under the integration of the global quality standards ISO 9001-2015 and IATF 16949. The entire network is fully implemented, audited and certified to ensure full compliance of the service offering.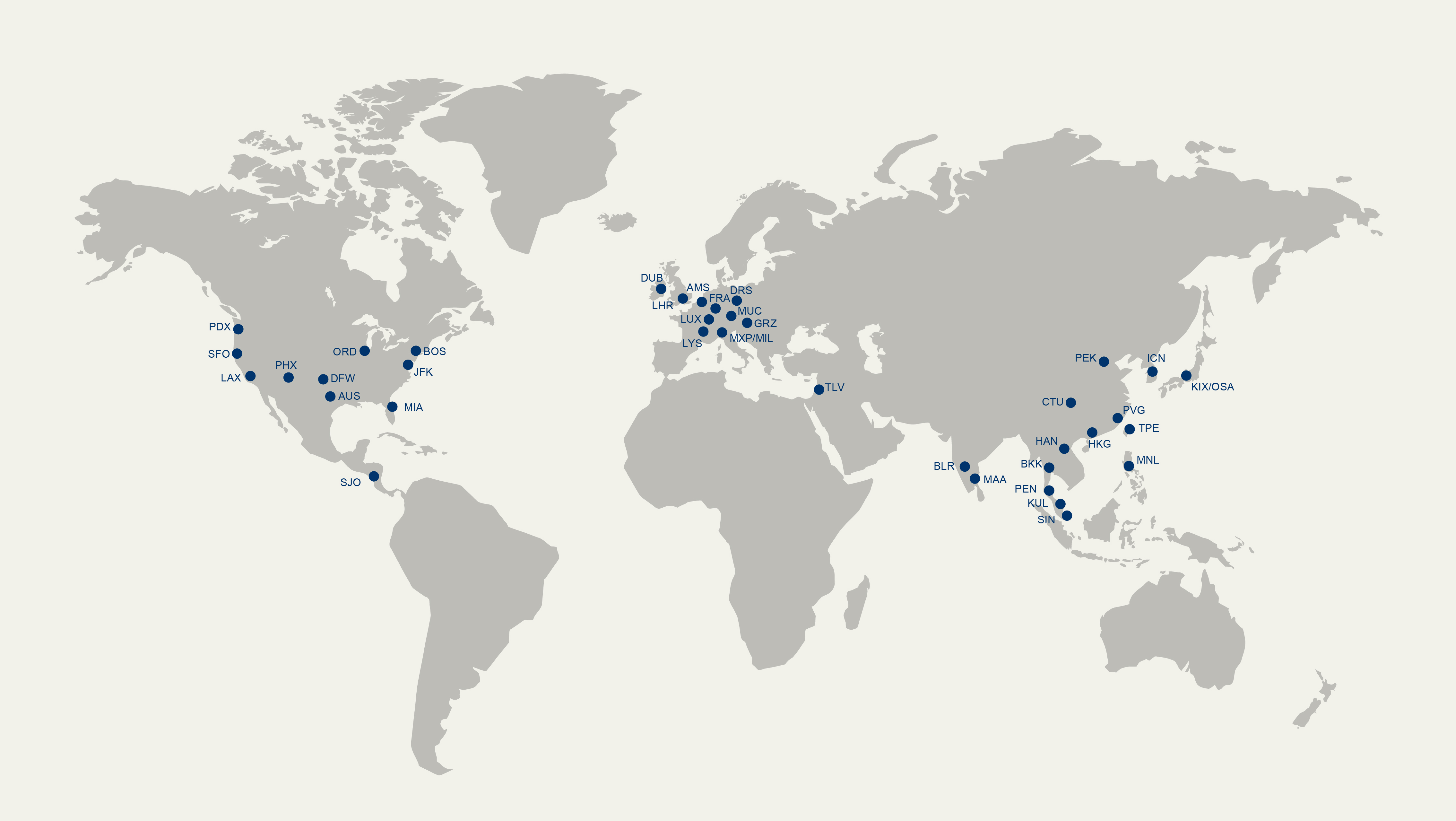 With this standardised and robust network, your shipments are always transported under the correct conditions with full air cargo tracking capabilities. These digital tracking tools not only give you real-time transport updates, but they also track the integrity status of your goods. This level of visibility reduces the risk of irreversible damage and costly delays.
It's a service of excellence you can rely on across the network.
Quality, predictability, security: full air freight offering
A semiconductor supply chain built on a global quality standard sets the benchmark in terms of performance, handling and security , pillars of our full air freight offering. Your high-value goods and materials are transported according to the SemiconChain standard, including time-defined services, layers of security services, and value-added services such as airside handling.
Time-based logistics services
Working closely with our customers, we developed time-defined solutions to ensure everyone who works with us can select the priority service they need—especially for time-critical, out-of-hours situations when you need the fastest solution possible.
Time-defined services that meet your requirements:
Deferred: 5-7 days
Standard: 3-5 days
Express: 2-3 days
Critical: <1 day*
*For urgent shipments, we offer time-critical solutions powered by Quick. With collection available globally, 24/7/365, and on the fastest delivery routes.
Getting priority access for your air freight shipments is possible because of our long-term partnerships with airlines. With dedicated carrier management available for escalation and special control teams at carrier hubs, you can be sure your semiconductor shipments will be flying on schedule and with quality service.
Security: minimise risk exposure
When your cargo is moving by air freight, airside solutions or on-board courier help reduce the risk of damage and delays during transportation. Semiconductor logistics experts secure the integrity of your high-value goods through:
Security-focused shipment planning
Flight explorer, our digital flight matrix planning tool
Lane risk assessments ensuring risk transparency and mitigation when required
Airside service: access to tarmac for increased control
Value-added logistics services for any type of shipment
In order to meet the many specialised handling requirements for the semiconductor supply chain, our network provides a range of value-added services, such as:
Shock avoidance and temperature controls
Specialised packaging and crating
Security set-up for shipments at high risk of theft
Leading digital tools for full visibility
Partner with a trusted semiconductor logistics provider
Industry-leading solutions alone are only half to ensuring reliability and security. The other half is the trust you put in your freight forwarder to navigate the volatility and nuances of the supply chain.
With our offering based on SemiconChain, you get this next level of trust. No matter where you operate or what you ship, our partnership provides you with the full package of quality-based semiconductor logistics solutions and expertise in reducing your transportation risks. Reach out today to learn more.